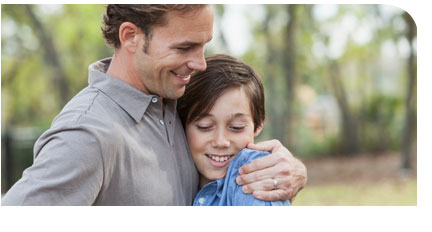 "But while he was still a long way off, his father saw him and was filled with compassion for him; he ran to his son, threw his arms around him and kissed him." —Luke 15:20
Some Christians view feelings with suspicion. They think emotions are unimportant or unreliable. Yet our feelings play an enormous role in our motivation and behavior. Think of a time when hurt feelings prompted someone to lash out in anger or to take revenge. Consider that some people have been hospitalized for depression after years of trying to ignore their feelings. And on the positive side, the Bible says that Jesus was motivated by his compassion, a deep feeling of empathy.
Feelings should neither be ignored nor placed in charge. Feelings can often motivate us to do much good. The Good Samaritan's pity moved him to go to the injured Israelite (Luke 10:33–34). In the parable of the lost son, the father was filled with compassion for his lost son and "threw his arms around him" (Luke 15:20). Many times Jesus had compassion for the people to whom he ministered (Matthew 9:36; 15:32).
Feelings come from our hearts and can tell us the state of our relationships. They can tell us if things are going well or if there is a problem. If we feel close and loving, things are probably going well. If we feel angry, we have a problem that needs to be addressed. But it is important to remember that our feelings are our responsibility; we must own them and see them as our problem so we can begin to find an answer to whatever issue they are pointing to. We should not disown responsibility by disowning our feelings. Instead, we need to embrace them and deal with them.
Are you owning your feelings today?
From an Insight note in the NIV Life Journey Bible